World Renowned Affandi (1907 – 1990)
Strongly resistant to idealistic portrayals of the Mooi Indies, Affandi (1907 – 1990) is renowned for his commitment to honest expression. Rather than advocating a particular social ideology, he constantly challenged himself to depict the candid, everyday life of Indonesian people. This dedication was in line with his co-founding of Sanggar Pelukis Rakyat (People's Painter Studio) in 1947, which encouraged members to pursue their ideas of authenticity in artmaking. With his unguarded style and bold subject matter, the Cirebon-born artist was one of Indonesia's leading expressionist painters in the mid-20th century.
A manifestation of energetic lines and loose brushwork, Affandi's artistic manner is recognised for its expressive tension. With techniques such as applying paint directly from the tube, his spontaneous and curvilinear markings culminated in a fiercely dynamic sense of movement. The artist painted with immediacy and often completed an entire work in one sitting. Utilising a non-naturalistic colour palette, he illustrated a variety of Indonesian subjects such as fishing boats, dogs, markets, Balinese dancers and more.
Affandi travelled significantly throughout his artistic career. Having received a grant from the Indian government, he went to India and painted there from 1949 to 1951. Thereafter, he journeyed to Europe and exhibited his work at major cities such as Paris, London, Rome and Brussels. Many organisations also acknowledged his influence in the art world. Apart from being appointed as an Honorary Professor in Painting by Ohio State University in Columbus, he also received an honorary doctorate from the National University of Singapore in 1974 and the International Peace Award from the Dag Hammarskjöld Foundation in 1977.
---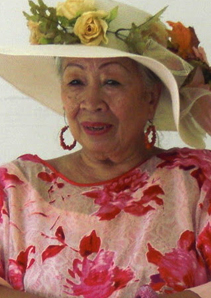 Kartika Affandi (1934)
Kartika is Affandi's daughter from his first wife, Maryati. Her educational journey started from Taman Dewasa in Taman Siswa Jakarta, then she studied art at the University of Tagore Shantiniketan India and received training from Nandlal Bose and other modern artists. She also learnt about sculpting at the Polytechnic School of Art London.
In a modern art world born in 1930s, in which men were still the predominant actors, a legend in her own rights Kartika is one of a small group of women who from the mid-1980s have succeeded in exhibiting their work on a regular basis and in gaining limited critical recognition.
From the age of seven, Kartika was instructed by Affandi in how to paint with fingers and tubes directly on the canvas. Any mixing of colours is done on her hands and wrists. Kartika has no permanent studio; like Affandi, she prefers to paint outside in the village environment where she interacts directly with her subjects and on-lookers. Not surprisingly given their close bond, Kartika has painted numerous penetrating portraits of her father, right through the last years of debilitating illness at the end of his life.
In a society where emotion is suppressed, both publicly and privately, Kartika fills her canvases with intense feeling. In culture where genitals are considered taboo in representation, Kartika has painted her own nudity graphically. Even in this context, Kartika's art emerges as unique, ranging as it does from conventional to subversive.
Kartika remains first and foremost a Javanese artist, but her work has influences from western painting and sculptures, and from Indian, Chinese, Japanese art styles.